The Widow Jane Mine
Windows Through Time; The Register Star 201
Robert and Johanna Titus
We have been spending a lot of time in Rosendale lately. (Early spring, 2016) There is a lot of good geology there and some pretty good tourist attractions as well. Things will soon be opening up for the season at the Century House Museum and the Widow Jane Mine. These are parts of the Snyder Estate Natural Cement Historic District. They are operated by the Rosendale Historical Society. They all commemorate the natural cement industry that flourished here during the nineteenth and early twentieth centuries. Last year we did an article in Kaatskill Life magazine about all this and recently we also did a column on the production of lime. So maybe you would like to go and visit Rosendale and see what happened down there. Now is the time.
Natural cement is made from a form of rock called dolostone. It is a close cousin of limestone, but differs in that it has a lot more magnesium in its crystal structure. Natural cement was made from a unit of rock called the Rondout Formation. That is found abundantly in Rosendale. During the peak of the cement industry, the Rondout was extensively quarried. Its stone was crushed and then cooked in large industrial kilns. The resulting lime was just of the right composition to make a very high quality form of cement. It was real durable material. It held up better than other forms of cement. Just as important, nobody had to mix sand or any other additives with it; it came with just the right recipe of silt and clay already in it. So not only was it good stuff but it must have been relatively inexpensive as well.
Not surprisingly, a sizable industry grew in Rosendale by the turn of the 20th Century. There had been a great rush of building in the Northeast and quality materials were sorely needed.  As you wander around the town you can still see a lot of remnants from those mining days. There are relic kilns and a number of old mine openings. The Widow Jane Mine was a typical operation. Miners cut into the bedrock and excavated what are called "pillar and room mines." They cut into the dolomite but left sizable pillars to support the mine as it expanded. These can be visited and explored and it is fun to do so. The mines can be seen at two stratigraphic levels. The lower Rondout was called the Whiteport Dolostone and the upper part of the unit was the Rosendale Dolostone. Each was just the right composition, so each was excavated extensively. In between the two dolostones was a pure limestone of no economic value. It's the Glasco Limestone and, if you can get close enough to it, you will find a large number of fossils, many of them corals. We enjoyed seeing them. The Glasco is an outdoors museum.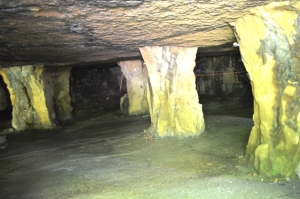 We would like you to get used to watching for pillar and room mining. That is because you are likely to encounter it from time to time as you wander around Ulster County. This sort of mining was once very widespread and all the old caverns are still around. Sometimes you can even get into some of them.
The value of the Rondout Formation was first appreciated in the middle 1820s. By the 1840s extensive quarrying was underway. The American economy was fast growing and there was a real need for cement. Rosendale satisfied much of that need. Rosendale cement came to be used for some historical sites. It was ideally well suited for large foundations. It was used in the construction if the Statue of Liberty, parts of the Capital Building and the Brooklyn Bridge.
There were problems with natural cement and eventually history was not kind to this industry. It took a very long time for natural cement to fully harden and that made it unpopular. If you made a highway of it, it took a month to cure and be useable. Portland cement was discovered, or invented if you prefer. It's an artificial sort of cement that is made of commonplace limestone but requires the addition of sand and other ingredients. By the early 20th century Portland cement was gradually replacing the natural form. The last Rosendale plant survived into the 1920s
The Century House website says that things will be open daily for self-guided tours from 10:00 to 4:00. The Museum will be open Sundays, 1:00 to 3:00, from Mother's Day through September. You will want to keep up with their events listings. They do hold occasional concerts in the old mine. We are most curious to find out what the acoustics are like.
Contact the authors at randjtitus@prodigy.net. Join their facebook page "The Catskill Geologist." Everybody else has.