A fossil tree on an ancient trail
The Catskills Geologists; The Mountain Eagle
Robert and Johanna Titus
Dec. 13, 2018
We get a lot of email from our readers and sometimes they send us good leads on potential columns. That happened recently when a reader sent us a photo of a fossil that he found along the trail that leads up to Kaaterskill Falls. Have you been on that trail? It's been there forever but has been nicely renovated in recent years. It makes a scenic hike. It's not a difficult one and you are rewarded with a view of Kaaterskill Falls from below. That's the view that Thomas Cole made famous with one of his first truly successful paintings done in the 1820's. That view was important in the history of American art itself. If you haven't been there, then you should.
We have hiked the trail many times and never tire of it. We haven't had a whole lot of success in finding fossils along it, but they are there. If you have a sharp eye and if your eye is a trained one, then you do find the occasional fossil plant. These are trees from the famed Gilboa Forest. Those are New York Sate's most important fossils; they make up the world's oldest known forest ecology, dating back about 380 million years.
We know! We know! December is not a very good time of the year to go fossil hunting, but when the weather warms up, you might give it a try. We, ourselves, have found some fairly decent fossil tree trunks in the massive sandstones of Bastion Falls. That's right above the highway at the hairpin turn on Rte. 23A. Maybe you can do us one better.
Our reader did just that. He found the branch of a fossil tree, complete with a row of leaves. Take a look at his photo. We immediately recognized the specimen. We had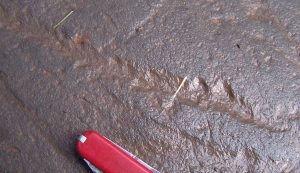 already seen a very similar specimen in Bearsville. One of our Woodstock Times readers had found it in a quarry above her home. Take a look at our second photo for that one which is a much better–preserved fossil. See how much better the leaves look. We thought that both specimens belonged to a tree named Archaeopteris, but we wanted to be sure. So, we sent both photos off to friend Dr. Charles Ver Straeten at the New York State Museum. Chuck sent them on to two of the most foremost experts on Gilboa trees. They both agreed that these were specimens of Archaeopteris.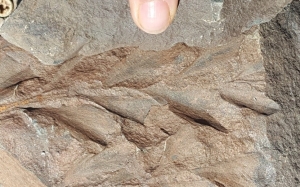 Archaeopteris is an important plant in the history of the evolution of trees. It belongs to a group called the progymnosperms.  That is a group of trees just a little more primitive than the gymnosperms themselves. And, as you might know, the gymnosperms include all of the modern evergreens; this is an important group of trees in the history of life.
The trail at Kaaterskill Falls is a scenic one for everyone who enjoys the outdoors, but for the two of us, it takes us back through time to an earlier planet Earth which was witnessing the rapid evolution of trees and of forests themselves.
Do you have good photos of geological wonders? Send them along with descriptions and perhaps we will be able to use them in a future column.
==================================================================
Contact the authors at randjtitus@prodigy.net. Join their facebook page at "The Catskill Geologist."