The Present is a key to the past
On the Rocks; The Woodstock Times, 2018
Robert and Johanna Titus
We are always happy to see the opening of a new land preserve anywhere in the Hudson Valley or the Catskills. We get out to see them as soon as we can, always hoping that there is some good geology. After all, we always need things to write about. Recently, Scenic Hudson opened a new preserve near where we live. It is called the Mawignack Preserve and it is off Snake Road in Jefferson Heights, just west of Catskill. Mawignack, we understand, means where two rivers come together. Kaaterskill and Catskill Creek are joined nearby.
We have always enjoyed the many landscapes found along Catskill Creek. Our home lies just (safely) above the Creek. So, we were most eager to see Mawignack. But when we found an aerial photo online, we were a bit disappointed. The preserve seemed to be little more than a very large field with a trail circling it. The trail did pass right along a thousand feet or so of the creek and that boded well, but–it just didn't seem like all that much; this was not the Grand Canyon. But we went and looked for ourselves. It turned our pessimism was not justified. There as some very interesting geology there.
Google Earth will quickly help you find your way to Snake Road in Jefferson Heights. The Preserve parking lot is near the end of the road. You follow orange trail markers a short distance until there is a split in the trail. Take the right branch. That's where we found that things got interesting.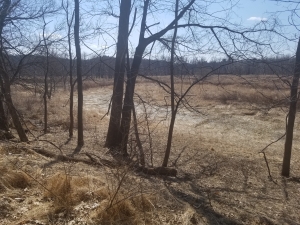 We saw something that we imagine few others would notice. Take a look at our first photo, look carefully. Do you see what sort of resembles a stream channel – it trends right to left in the far distance and then left to lower right in the middle of the photo. It looks like something that geologists call a stream meander. It's dry so it is not an active river, but it was, long ago, late in the Ice Age. How do we know that?
We use something that is fundamental to geology. It's called uniformitarianism. Briefly that means that when we find a problem in the geological past, something that we can't figure out right away, then we search the modern world for something similar that we can use to find the solution. We like to say that "the present is a key to the past." Let's do that right now. We would like to take you to the "present" at a location you are likely to be familiar with. That's the Thorn Preserve at its intersection of Zena and John Joy Roads. The southeast corner of the Preserve overlooks a bend in the river, the Saw Kill, exactly the same as we suggest used to be at the Mawignack preserve
Well, what happened at Mawignack? Why is that bend in the river high and dry? We think we know that too. First things first though; the Mawignack Preserve, back then, was indeed a river meander. It lay atop the old floodplain of an ice age version of Catskill Creek. But today's Catskill Creek flows about ten feet lower that the old floodplain. How could that be? Yep, we think we know that too.
You see, at the end of the Ice Age, when a lot of glacial ice was melting, the ground was rising. As the ice melted away, weight was removed, and the ground simply expanded and rose—about ten feet. Catskill Creek eroded down into those ten feet, to establish its modern channel while abandoning its old floodplain. That floodplain, with its old meander, is still there, perched those ten feet above the river. But the meander can only be seen by the trained eyes of modern geologists.
So, we propose that the two preserves be considered as twins, twin landscapes separated by time. Visit the Thorn Preserve and see a modern floodplain with a modern meandering stream and then go to Mawignack and see an old floodplain with an old meander. Mawignack looked just like Thorn, perhaps 10,000 years ago. Thorn may well look like Mawignack—10.000 years from now.
Contact the authors at randjtitus@prodigy.net. Join their facebook page "The Catskill Geologist.