Visiting a disaster: Windham
Windows Through Time; The Register Star
Sept. 2011
Updated by Robert  and Johanna Titus
We have all seen the television reports of the enormous disaster that has befallen the Catskills. Hurricane Irene passed straight through the heart of our home mountains and unloaded vast torrents of rainfall upon us. Some of the worst hit areas were in Greene County, especially the towns of Prattsville and Windham. I don't have rainfall numbers for these locations, but there were about 13 inches of rain in nearby Durham and Hunter, and it was very bad throughout the county. The television coverage was very gripping; it was riveting to see the devastation done to these many towns and the harm done to so many lives.
But it is altogether another thing to go out and visit one of these villages and see for yourself what has happened. My wife, Johanna, and I wanted to go to Prattsville, which was hardest hit than of all, but that was out of the question. Prattsville was too wrecked to let people in. We were able to visit Windham and see what was going on there.
As we approached the town from the east on Rte. 23, we began to see some of what had occurred. Along the side of the highway great ditches had been cut into the ground. Some of them had even scoured into the road itself. I got out and looked at erosion that had, in some places, cut four feet down into the earth, all the way down to bedrock. Now we could see that, at the height of the storm, Rte. 23 was, in effect, converted into a river. That's common in flood events. The currents had been so powerful that it had turned the ditches into great gullies.
We continued on toward Windham and, to our left, the valley of Batavia Kill opened up. It's a large valley and, behind it to the east, it stretches into Black Dome Valley. Black Dome Valley reaches eastward and ends in a large bowl-shaped basin which reaches into the high front ranges of the Catskills. The bowl was probably carved by an Alpine glacier towards the end of the Ice Age. Bowl is a good term and accurately portrays what this basin was doing on that Sunday. This bowl began the flood. It was receiving that massive rainfall, collecting it, and passing it on down Batavia Kill – to Windham.
We diverted our trip to visit the village of Maplecrest and there we saw a stunning testimony to the power of the flood that had developed. The bridge at the west end of the village was completely destroyed. In the five miles that the Batavia Kill had flowed west from that bowl, it had already swollen so much that it welled up over its banks and had undercut the bridge, leading to its destruction. Soon that torrent would flow on to Windham. We followed.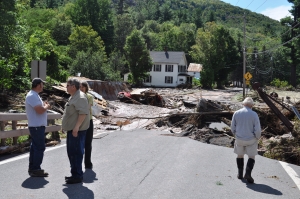 As we entered Windham, we immediately saw the whole effect of the flood. What has to be understood is that, at Windham, the Batavia Kill had not just risen, it had expanded. Most floodplain floods are relatively calm; there are few powerful currents. But what happened at Windham is that the river had become bigger than ever. As its currents had grown more powerful, they had swollen into the town. The Main Street business district was literally located in the middle of a powerful river. And that stream was being fed by the pounding rain in the Black Dome Valley. It was an awful moment.
But we got there during the aftermath, the flood had subsided, and people had come out to start dealing with the damage. Folks were not dazed; they were very unhappy, but they had determination on their faces as they set about doing what they could. We saw large hoses emerging from basements, pumping water out of family homes. We saw several cars where they had been lifted up, carried by the flow, and dumped by the flood. Windham had been, and will be again, a pretty town. Part of that is from the bluestone sidewalks, but we saw that the flood had been strong enough to lift up many of those heavy stone slabs and sweep them some distance. Whole stretches of sidewalk had been carried off. We saw lampposts that had literally been bent over by the currents: something frightening just to contemplate.   Storefronts, here and there, had been badly damaged. Many homes had seen their first floors flooded. It was a terrible sight. We were looking at all of Nature's power.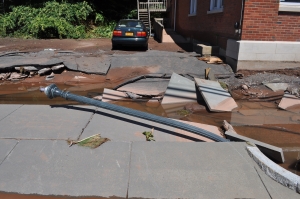 We asked if we could drive on to Prattsville and were told that no, things were very much worse there. Soon we would start hearing about Martinsburg, Middleburgh, Phoenicia and many others.
Contact the authors at randjtitus@prodigy.net. Join their facebook page "The Catskill Geologist." Read their blogs at "thecatskillgeologist.com."