How far away is the Devonian?
The Woodstock Times – On the Rocks
Robert and Johanna Titus
   If you have been longtime readers of "On the Rocks" then you will know that we almost always write about geology that we have gone out to the field and seen for ourselves. We would like to depart from that in this issue. In fact, we are going to step out of Geology, itself, altogether. It all began when we were pondering the Devonian time period. That's the geological chapter that extended from 419 to 359 million years ago. It's an important unit of time here in the Catskills. All of the bedrock you see hereabouts was formed during the Devonian.  But what, we wondered, was going on in the universe that surrounded the Earth during that time? That got us pondering some more. We were being typical scientists and we were doing typical science thinking.
We realized that when you are looking into space, you are always looking into the past. When you are looking at the moon, you are looking at an image of light that departed it a short time ago. We asked our cell phone, and it told us that the image of the moon, that we see, left it 1.3 seconds ago. Our cell phone went on to tell us that light from the Sun is Eight minutes and 20 seconds old. We can't actually see the Moon or the Sun; we can only see them as they were in the past. Do you think thoughts like this? Then you are a bit of a scientist.
We realized that there must be something out there that emitted light during the Devonian, but our cell phone was of no help. Our "smart" phone might have been stumped, but the Physics department at Hartwick College was not. We posed our question, by email, to the faculty of that department and in just a few minutes we got a very good answer. Living, breathing PhD physicists do these things all the time; they are very bright people. Dr. Kevin Schultz, Associate Professor of Physics, looked into NASA records and found a galaxy, poetically named UGC 12591. It lies just a little less than 400 million light years away from our Earth. That makes its light just a little less than 400 million years old. That light has been traveling toward the Earth all that time. When it reached the halfway point, Dinosaurs were just getting themselves started (that's more science thinking). In short, that galaxy's light was shining during the Devonian; it was there during the Devonian.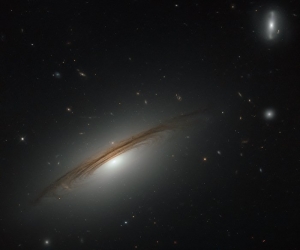 Would you like to see this Galaxy? Well you need to look into the westernmost region of the Pisces-Perseus Supercluster. That is an enormous chain of galaxy clusters which extends across some 250 million light years of space. It is regarded as one of the largest "things" found in the cosmos. UGC 1259l is big; it is four times the size of our Milky Way Galaxy. That makes it four times bigger than everything you can see in the night sky. Think about that for a moment. The bad news is that you won't be able to actually look at UGC 12591; it's too far away. Our photo was taken by the Hubble Space Telescope. If you don't have access to the Hubble you won't be able to see it yourself.
That galaxy is out there; it is that far away. But Hubble is not just looking far into space; it is looking far into the past. This column's photo is of the galaxy as it was when lower Devonian tropical seas were invading New York State. Our local limestones are as old as the image you see in this column. That light was in transit while the trees of the fossil Gilboa Forest were growing. That light was geologically ancient at the very times when all the rocks you see around here were forming. We scientists ponder such things.
We should specify that we are not that smart; we paraphrased much of this article from a NASA publication. Dr. Schultz helped. We hope that Bob Berman will forgive our trespassing.
Contact the authors at randjtitus@prodigy.net. Join their facebook page "The
Catskill Geologist" Read their blogs at "thecatskillgeologist.com."