A Gem, Fossil and Mineral Show
The Catskill Geologists
The Mountain Eagle
Sept. 2019
Robert and Johanna Titus
There's an event coming up that should be of great interest to all of us, that includes the two of us and all of you, our readers. That's the annual Mineral, Jewelry, Gem and Fossil Show at Howe Caverns. It's sponsored by the Howe's Cave Museum. That's on Saturday, Sept 28 from 9 to 5 and Sunday, Sept 29, from 9 to 4. It will be held in the indoor pavilion which lies above Howe Caverns. There is a $5 admission charge. The event is sponsored by the Cave House Museum of Mining and Geology. We went last year and found it to be a very fun and educational event.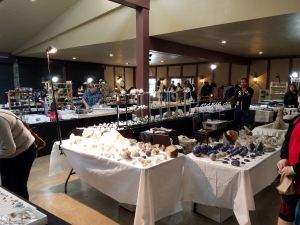 The primary attraction is a sale. There will be 25 venders set up in the indoor pavilion. You can wander the room and look at and pick among a large and very wide variety of rocks, minerals and fossils. Then, of course, there's the jewelry It's like going to a museum except that you can buy pretty much anything you see. We saw some very nicely made gemstone jewelry. Then there were the mineral specimens themselves. They are beautiful and fascinating to look at. The fossils were equally good, in fact we were quite surprised at the high quality of some of them. Your house really needs a good trilobite in it, doesn't it? Or how about a nice fossil fern? Many of these have been made for placement on coffee tables or knickknack shelves. They will dress up anyone's home. Overall, we thought the prices were quite reasonable. And here's a thought. Christmas shopping is coming up soon. And how many birthdays will you be celebrating this coming year? How many people do you know who are impossible to find gifts for? Well the show is perfect for that sort of shopping. Give it a try.
And the dealers are such interesting people. They are mostly collectors themselves, so they are in the business to support their habits. They are fun to talk to and fountains of good information. Don't worry about food; there will be venders.
You can make a full family day of it. Do you enjoy Antique Road Show on TV? Well the Cave House Museum will have a booth where you can get your fossils, minerals and rocks identified. The Capital District Mineral Club will be operating a sand box where kids can sift out fossils and minerals. Don't forget to take the tour of Howe Caverns itself. Have you been there? It's well worth the trip. Then we hope you will go over to the Cave House Museum. There will be free tours there. You can see a collection of local fossils, minerals and rocks. There is a museum rock garden, a row of fascinating boulders donated to the Museum over the years. As part of the tour you will be led into the old and original Lester Howe Cave. That was the very first Howe Caverns, open during much of the 19th century. Something we are very much looking forward to is a lecture on fluorescent minerals by Bob Ballad. If you have never seen such minerals, you will find them astonishing. The lecture will be on Sunday at 1:00. All in all, his show is a fine local tradition, a true community event. Don't miss it.
Contact the authors at randjtitus@prodigy.net. Join their facebook page "The Catskill Geologist." Read their blogs at "thecatskillgeologist.com." They will be on WIOX 91.3 FM at 6:00 on Oct. 1st and 15th. That's also at wioxradio.org.