Burroughing into Natural History
On the Rocks; The Woodstock Times May 15, 1997
Updated by Robert and Johanna Titus
Throughout our Hudson-Catskill landscapes there are many secluded hollows. All of them have a geological story, but some of them are far more important in other ways. Famed nature writer, John Burroughs, knew many of these Hudson hideaways and he chose one of the best for his own. He built himself a small cabin in one of those hidden hollows. It's still there, called "Slabsides," it's a monument to Burroughs himself.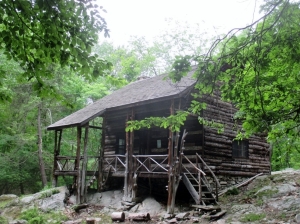 Burroughs didn't need Slabsides for shelter, he just needed a small, personal retreat. He already had a fine family home, called "Riverby" nearby. Riverby was situated in West Park, on the banks of a far more bucolic Hudson than the one we know today. Burroughs even grew grapes on this small Hudson estate. But it wasn't grapes that was the primary Burroughs family harvest; it was literature. John was one of 19th century America's foremost writers. He was a man of letters, the literary critic who virtually discovered Walt Whitman. Burroughs also wrote of philosophy and religion. But it was as a natural history writer that he gained his greatest lasting fame, and as such he is still most fondly remembered.
Burroughs and several late 19th/early 20th century colleagues, made up a literary wing of the turn of the century conservation movement. But the old "Sage of Slabsides" was not an environmental activist. He was well-known to avoid all strife, political and otherwise. To two generations of readers, he was the benign figure of America's grandfather. Not so, many of his close friends. Teddy Roosevelt was never known to have avoided trouble, he thrived on it. And the crusading John Muir's views on the environment were decidedly activist. Nevertheless, both valued their friendship with John Burroughs and each greatly appreciated his soft, philosophical approach to nature. Both were visitors to Slabsides.
The hollow is a great one for the likes of us. Wherever we look, we can see the images of a particularly rich geologic past. First there are the fine bedrock exposures, sedimentary rocks from the depths of the Silurian sea that was once here. The strata belong to a unit of rock called the Quassaic Group. These well-cemented, brittle old sandstones formed way down at the bottom of that old Silurian age sea. That was more than 400 million years ago. Then there are the scars of glaciation that the jagged rocks reveal. We can easily imagine the flow of ice coming out of the northeast. As glaciers overwhelmed the old hollow, they hacked away at the bedrock and carved the ruggedness into the hollow. Finally, there are the moist, dark earths of the hollow's floor. Burroughs grew asparagus here, but there is a much older story to the soils. They accumulated in a poorly drained swamp that formed here after the ice melted away. Who knows what form of fossil plants and animals may be buried in the fertile black muck that Burroughs prized so greatly.
But it's hardly the geology that draws people here, it's Burroughs old cabin and its legacy. Slabsides is in very good condition for an old house, but it's not likely to ever be featured on "America's Castles" or in Victorian Homes magazine. It's not much, just a tiny handmade cabin. Its only real architectural distinctions are the rough bark covered planks that give the house its name. We preserve the great mansions of the Hudson Valley, and we should. But many people, a century ago, lived in very modest homes like this one, and very few of those are left. Slabsides is a reminder of the kinds of homes that existed before the invention of row houses or trailer parks.
Most of the time the hollow is quiet, but twice a year the John Burroughs Association meets for "Slabsides Day." Lisa Breslof, secretary of the group, told us that their main goal was to keep the name of John Burroughs alive and to keep his literature in the public eye. More prosaic goals included maintaining Slabsides and the many Burroughs memorabilia.
We have been members for years now. In his later years, Burroughs was a pretty good geologist as well as naturalist. He wrote quite a bit on geological topics and hence our interest.
Contact the authors at randjtitus@prodigy.net. Join their facebook page "The Catskill Geologist."