Cabin Tales #Five: The Gullies
On the Rocks; The Woodstock Times; July 14, 2011
Updated by Robert and Johanna Titus
We have been exploring the vicinity of the little red cabin, property of the Catskill Center for Conservation and Development. That land is at the top of Plattekill Clove, and it lies on the slopes of Plattekill Mountain. The best way to hike up into the mountains here is to take the Green Trail, that's part of the "Long Path" which extends 347 miles from Ft. Lee, New Jersey to Altamont, New York. Watch for the local trailhead along County Rte. 16; cross the bridge there and begin your ascent into the Catskills. Along the lower reaches of the Green Trail is some very prominent evidence of bad land management.
Today's hiking trail was once a highway and a busy one at that. We have to imagine what it was like to be here during the late 19th Century. Back then Plattekill Mountain was the heart of the then very active bluestone industry. Dozens of quarries were being worked at that time and an enormous amount of bluestone was being transported off the mountain. Most of it probably traveled south, down the Meads Mountain Road and on through Woodstock for eventual shipping, by boat, down the Hudson. The rest traveled north, down the Green Trail.
Today's Green Trail would have been a primary road back then, and it probably saw a fair amount of traffic. And the evidence is that it saw enough to cause real problems. You start your modern day hike up the trail and very soon you encounter deeply rutted gulley's close to the modern trail.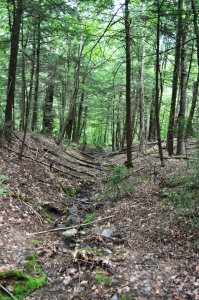 These ruts have a history, and it is one of environmental abuse. They, no doubt, date back to the late 19thCentury; they are contemporary to the times when this was a real highway. You have to remember that this "real highway" was a dirt road back in those days and that horse drawn vehicles were driven up and down its lengths. The wheels of such wagons had a deeply rutting effect upon the paths. When it rained those ruts would have been widened and deepened. We don't know how much care went into maintaining these roads and it is easy to guess that they were left to get worse and worse.
In fact, that is what the evidence suggests. There are not just one set of ruts, but at least two. It appears that the original highway came to be so badly rutted that it was abandoned. A new road, near to the first, came into use.  With time, and years of more use and abuse, that second pathway became unusable, and it too was abandoned.
Somewhere along the way, history saw the end of this, the Overlook Mountain Road. Most likely the bluestone industry came to be abandoned as the quarries gave out. There was still a small tourist industry up there with some boarding houses, but eventually that ended too. There were fewer reasons for people to live up there and they moved on. The road simply fell into disuse, and it evolved into today's hiking trail.
Human feet can be quite erosive, but they are not the match to horse hooves and wagon wheels.  Our hiking trails, like the roads of old, have to be abandoned or occasionally rerouted in order to minimize the damage. In my years we have seen a number of hiking trails blocked off and moved to a new direction. It is something that just has to be done.
But we are just a little more enlightened nowadays. We purposely reroute our trails, usually long before the damage gets out of hand.
It is not as if Nature is all that careful about what she does to the landscape. In exploring Plattekill Mountain, we had no trouble finding naturally rutted creek beds. Plattekill has very steep slopes and when natural creeks descend them, the tendency is to damage the landscape not much less than horses and wagons. Such creeks are very erosive when they descend steep slopes. If you do a little exploring along the Green Trail, you will see these too; watch for vertical bedrock walls one either side of these creeks. When we were there in the summer of 2010 it had been dry for quite a spell. Those erosive creeks should have had a lot of water flowing through them, but they were dry as a bone.
The good news comes with time. Nature heals man's wounds.WeI saw little or no signs that any of this erosion had been recent. In fact, these ruts seem to be a century or so in age with no evidence that they will ever be active again. Nature does her healing by allowing plants to grow over the damage and by overseeing the return of soil profiles. These old ruts have a soft, rounded shape to them. It will take a lot of time to complete the healing. But, in the meantime, the great ruts that can be seen here form a somber testimony to what happens with poor land use.
Contact the authors at randjtitus@prodigy.net. Join their facebook pagre thecatskillgeologist.com.