Skiing at Hunter – its ice age origins.
The Catskill Geologist
The Mountain Eagle. July 7, 2017
Robert and Johanna Titus
This week we welcome new Mountain Eagle readers in the town of Hunter. Hunter is famed for its skiing and we wondered if there was a geologic explanation that would account for this town's important industry. Currently skiing on Hunter Mountain is confined to the "Colonels Chair" which lies on the slopes of Shanty Hollow. There are six more similar hollows which are arrayed around the top of the mountain. All these have origins which date back to the ice age when they were occupied, not by skiers but by Alpine glaciers.
Not all that many people realize the important role that glaciers played in making our Catskill landscapes. The story takes us back about 20,000 years to a chapter in glacial history described as the Wisconsin glaciation. Catskill glacial history is complex, but geologists simplify it into two very different phases. First, there was a time when something called the Laurentide Ice Sheet swept across our mountains. The Catskills then resembled the ice plains covering most of today's Antarctica.
By about 16,000 years ago, however, the Catskills had escaped the worst grip of this phase. The great thick ice sheet was gone, but all was not over yet. Glaciers were still found in the shaded valleys. There were more in high mountain hollows; these are called Alpine glaciers. If you are familiar with the images of today's Swiss Alps then you know that, high up in the Alps, large glaciers form in pre-existing hollows (also called niches). These are nourished by snowfall and with cold conditions, these picturesque Alpine glaciers descend the slopes and flow into the valleys below. That was the case with Hunter Mountain
As time went by these glaciers modified their own Alpine hollows. Glacial ice forms a sticky bond with the rock beneath it, and as the ice moves downhill, it plucks loose large amounts of this rock. Alpine ice is thus a very effective agent of erosion. Given enough time, this expanded the niches and enlarged them into beautiful, bowl-shaped features called "cirques." See our photo.
There are a lot of cirques in the Catskills, but few of them are as well developed as those of the Alps. Our glaciation was too short for Swiss-like landscapes to develop. Warmer conditions returned and the Alpine glaciers melted. Nevertheless, Hunter Mountain displays some of the best cirque landscape seen in the Catskills. Each of these once harbored a glacier.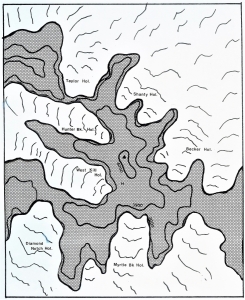 You can see some of this Alpine landscape. From West Kill Valley take the Blue Trail southeast and up the western slope of Hunter Mountain. There is a fine ledge at the top of the trail. The cliff below drops off into an Alpine glacier's niche. Look west into the valley of West Kill. The beautiful U-shaped valley you see is the product of that glacier's erosion as it flowed down the valley.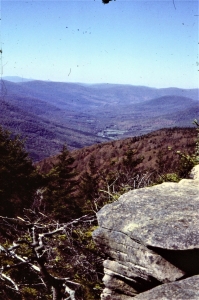 But if you are not all that physical and would like an easier way to see some of these cirques, we recommend that you simply drive west into town on Rte. 23A. To the left you will find an entrance to the ski resorts. Find a place to park and get out and look up. You will see two of these cirques (again, see our photo). One contains the ski slopes. In between is a very steep hill. Geologists have a name for hills like these that once lay in between adjacent Alpine Glacier. They are called aretes.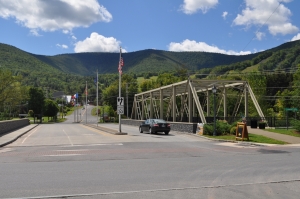 So – to a great extent, the town of Hunter is there because of its skiing industry. And all that skiing is because of the Ice Age. We like to say that it is "a gift of the Ice Age."
Contact the authors at randjtitus@prodigy.net. Join their facebook page "The Catskill Geologist." Visit their blog "thecatskillgeologist.com."