A trip through Grand Gorge
The Catskill Geologists
Robert and Johanna Titus
The Mountain Eagle July 2017
We remember our first drive through the town of Grand Gorge. We both wondered where the gorge was. It didn't take long before we headed south on Rte. 30 and discovered that gorge. The highway passes right through a fine canyon down there, and its walls tower above the highway. You can't get around in the central Catskills without frequently passing through the gorge, but have you ever wondered how it got there.
It's so easy to just take things like this for granted: the gorge must have just always been there- right? Well – not right. We are geologists and it is our business to not only ask questions like this, but to answer them as well. Let's give that a try.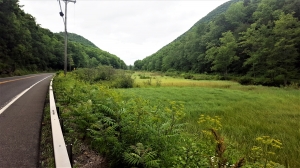 When studying landscape features in the Catskills, we always think of the Ice Age first. The two of us knew a lot about the ice age history of the Grand Gorge vicinity, and we came up with a good explanation quite quickly. We knew that there had been a sizable glacial lake extending from just north of Grand Gorge all the way to the Mohawk River Valley. If you drive north on Rte. 30 you will usually be driving on the bottom of that lake. We wrote an article about this a couple of weeks ago.
We would like you to make this into a nice "Sunday drive." It will be leaf peeping season before you know it, and maybe you could do a little geology peeping too. Head north on Rte. 30 and watch for all the flat landscapes left and right of the highway. That's the old lake bottom. (You learned this a couple of weeks ago; now it's time to go out and see it). The lake has a name; geologists call it Glacial Lake Grand Gorge. And that lake had a lot to do with how Grand Gorge came into existence.
All lakes have waters which, if possible, will flow into the nearest ocean. Lake Grand Gorge was no exception. Its waters rose up and passed through some sort of early Grand Gorge gap up in the mountain. The flows involved enormous amounts of water and those flows were erosive – very erosive. Over a period of time that erosion cut at least the lower third of the gorge.
When we are driving through the gorge, we always give our mind's eyes complete freedom. We imagine that enormous flow passing by above. Those currents are brown with sediment; but more than anything else, they are powerful. We see eddies in the surface of the flows. Sometimes these graduate into full-fledged vortices. Curiously, there isn't all that much noise. There is something of an electrical hum that we feel as the waters pass by beneath us.
We have been describing an experience that is one of the great privileges that come with being geologists. We appreciate our scenic landscapes just as much as anyone else, but we are privileged to be able to travel through time and see the landscapes as they were forming. Keep reading our columns and you can soon start doing this too.
Contact the authors at randjtitus@prodigy.net. Join their facebook page "The Catskill Geologist" and read their blogs at thecatskillgeologist.com.