Buried alive, the Gilboa Forest
On The Rocks
The Woodstock Times
Oct 10, 1996
Revised by Robert and Johanna Titus
It's autumn and once again the leaves are in color. This annual event has not always been. Autumn color is a characteristic of today's advanced deciduous trees, but there was a time when the world's forests were composed only of the most primitive plants. In fact, there was a time when there were no forests at all. We New York State paleontologists get to see the transition from a world without forests to one with them. We have very old terrestrial deposits here, red sandstones of Silurian age. They formed in habitats where trees should have been common but they have no fossil trees at all. Then there are the Devonian age Catskill red sandstones. They are only about 40 million years younger, but they have a great abundance of fossil trees. During that interval trees evolved and spread out across the Earth as the first and oldest forests.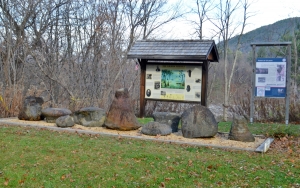 Fossil trees this old are extremely rare, but you can go see some of them yourself, and enjoy a fine autumn drive at the same time. From Woodstock take Rte. 28 to Rte.42 and drive from from Shandaken to Lexington. Then take Rte. 23A west until you reach Grand Gorge. Take Rt. 30 north 2.8 miles and turn right onto Rte. 990V. Go downhill another 1.2 miles and you will reach Schoharie Creek where it passes through the village of Gilboa. Just beyond the bridge is a little park with some very fine fossil tree trunks. This humble site commemorates one of the world's most famous fossil locations, the Gilboa forest. After looking at these fossils you can proceed a short distance to the Gilboa Museum. It's only open on summer weekends but it displays some more very fine fossil trees.
The Gilboa forest was discovered after the terrible Schoharie Creek floods of late 1869. Extensive erosion along the river ripped through soft red shales and exposed a number of fossil tree stumps. The discovery caused quite a stir and well it should have. This was the oldest known fossil forest; before them nobody had ever guessed that trees were this ancient.
It got better in the 1920's. Excavations for the Schoharie Reservoir revealed about 200 more fossil stumps. The trees in the little park were among these. These famous Gilboa fossils offer us a rare view of what forest ecology was like very early in its history. Gilboa was forest of trees, most of them called progymnosperms. In common terms that means that these were essentially very big ferns with tall wood stems (trunks). In time they would evolve into today's common cone-bearing trees, called gymnosperms.
Beneath the trees was simple ecology of even more primitive plants. Hiding among them was an animal ecology of simple arthropods. These were an abundance of centipedes, millipedes, and simple insects, along with many truly exotic creatures. One of note is that Gilboa is the home of some of the oldest known fossil spiders. This is certainly a peculiar, but truly remarkable distinction for a small town. Spiders are among the most abundant and successful groups of invertebrates on the planet and some very old ones are right here!
There are ironies in the story of Gilboa. The trees are a metaphor for the great cycles of time. They grew not along the Schoharie Creek, but along some ancient nameless stream of the old Catskill Delta. They were long ago buried in the muds of a long forgotten flood. There must be a story here: What kind of flood was this? How bad was it? There is no answering such questions. For hundreds of millions of years they lay entombed in those flood sediments. During that time they hardened into rock. If it was floodwaters which buried them, then it would be flood waters which would release them. These trees of stone lay in wait for the day when another awful flood would bring them back into the light. The irony came when so many of them were once again submerged in the waters of the Schoharie Reservoir.
Contact the authors at randjtitus@prodigy.net. Join their facebook page "The Catskill Geologist."