The Wall of Manitou
Windows Through Time
Robert Titus
A few years ago we celebrated the Quadricentennial of Henry Hudson's 1609 exploration of the Hudson River this year. It is an important landmark. Hudson made the first serious European exploration of the valley and its river. I am guessing that it must have been an especially fascinating moment for Hudson and his crew when they first spied the tall, blue silhouette of the Catskill Mountains as they were sailing north. They must have wondered about those mountains as the sailed past them. They would never get to go up there. We can.
Satellite view of Catskill front
This is the Catskill Front, or if you like, the Wall of Manitou, very roughly the Algonquian words for the Wall of God. It is a very striking landscape feature; stretching about ten miles long and extending from Overlook Mountain, in the south, to North Point, in the north. It is broken twice by sizable cloves. The biggest is Kaaterskill Clove; the other is Plattekill Clove and that is only a bit smaller of the two. You can hike most of the Catskill Front on the Escarpment Trail. That long hike will take you past many very nice views. The hike is a big investment of time, but well worth the effort.
Walking the Catskill Front is one way of enjoying it. The other is to go down into the Hudson Valley and look up at it. Most of us have gazed at this scenic profile of the Catskills. Many of us have favorite vantage points. Mine is from the south porch of artist Frederic Church's mansion, Olana. There, the mountains never look exactly the same, no matter how many times you visit. There are the winter and summer views, of course. But then there are bright and sunny days when the mountains positively gleam, and also dark days when the mountains are enshrouded in low lying cloud banks. To watch as thunderstorms pass over the Catskills is a grand experience. I think that they must have invented thunderstorms just for the Catskills. On clear dry days at Olana, the image of the mountains seems to expand; I think that the dry air actually magnifies the view. It is always a wonderful panorama at Olana. Church and his family enjoyed it for decades; I envy them that.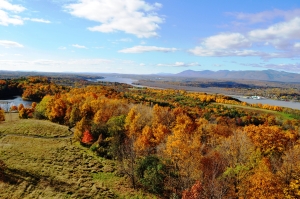 View of Catskill Front from Olana
To a geologist there are other wonders to the Catskill Front. It has had its mysteries for us. We enjoy its natural beauty, but we also ask questions about it. One of them is "Why is it there." There is a passage from an article by the late Dr. John Rodgers, a very well respected geology professor from Yale University. He placed himself on the Mountain House ledge, gazing eastward into the Hudson Valley, and simply marveled and wondered as to its very existence. How had it formed? He had many ideas but he did not really know for sure.
The questioning was pertinent. The Mountain House ledge lies at the top of many thousands of feet of sedimentary rock: called the Catskill sequence. Where did it all come from? The sequence thins to the west, but it extends all the way past the Mississippi River; that is a lot of sediment! It was famed 19th Century Albany geologist James Hall who first recognized this. But, he wondered, where did all this sediment come from? He looked eastward, like John Rodgers, and he too could not answer the question. There should have been a great source of sediment out there in the east, but he did not see it.
Another very puzzling question has long been "Why is the Catskill Front so straight." And indeed, through all of that length, it is most remarkably straight. How could that be? Nature is not too fond of straight lines; she only uses them for the best of reasons. She much prefers random lines. Not here. Why not?
And then there is the direction of that straight line. The Wall of Manitou runs approximate south, 30 degrees west. That is a commonly observed compass direction throughout our region. And, again, the question is why?
My column, this week, is, of course, a teaser. I can answer these questions, I think. And I will over time. But, I guess that my main point here today to illustrate something essential about scientists. We enjoy good scenery as much as anyone else. But, we scientists do look more deeply into the very nature of Nature and we ask so many questions of Her. It is one thing to enjoy the scenery; it is another thing to understand it. Seeking to understand is just our scientific nature. And that is what we have only just begun today.
Reach the author at titusr@hartwick.edu