On the Rocks – Literally!
On the Rocks – The Woodstock Times
June 22, 1999
Updated by Robert and Johanna Titus
Rustic Adirondack furniture has been popular for generations. People find austere looking bent trees and fashion all sorts of pieces from it. The style is perfect for the interiors of mountain cabins and for exteriors anywhere. You don't actually have to be in the Adirondacks, the style can be seen all over the east, including the Catskills.
You will see Adirondack furniture hereabouts, called that even though it's made from local wood. But there is also something that, we think, should be called "Catskill furniture." You won't see it inside or even outside of homes, however. You will have to go hiking if you want to see it at all. It's made from local materials but not wood. Catskill furniture is made of bluestone and can only be seen in old quarries.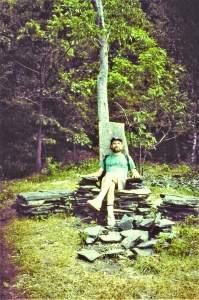 All the old bluestone quarries have enormous piles of waste rock. These are the irregular slabs of sandstone that were not suitable for sidewalks or any other use. Quarrymen just left them in heaps. Hikers, apparently, have not been able to resist taking these slabs and piling them up into "furniture." If you spend much time on the mountain trails you will see many of these bits of folk art. The most popular are the thrones, great seats of stone. Sometimes there are just single thrones, perhaps for a bachelor king. Then there are paired seats and even thrones for three.
But there are more than just thrones for the mountain kings. There are tables and obelisk-like columns. There are walled rooms and, sometimes when there is water in the quarry, spring houses. We have seen whole complexes of rooms with tables and chairs and all manner of comforts. Naturally one gets hungry building all that furniture and of course there are barbecues. We expect that hikers camp out in these complexes and have made them quite comfortable. All this reminds us of some of the complex cliff dweller Indian sites of the American southwest.
One question we have is "how old are they?" It's not obvious from just looking at them. After all a throne of stone could have been stacked up last week or a century ago, how can you tell? The stone doesn't develop the patina of age that we see in wood. But, we are guessing that few of them are all that antique. We have not seen much in the way of lichen growth on these stones. If a rock is left exposed for a long enough period of time it will develop an encrustation of lichens. The longer it lays there, the better the growth. Our stone villages apparently have not been there long enough to grow many lichens.
Where can you go and see some of these? The Overlook Mountain trail will take you north to Plattekill Mountain where there are quite a few old bluestone quarries. You can explore these and find a number of the neo-neolithic sites. The very best we have seen so far are on the lower slopes of Sugarloaf Mountain. Take the blue trail toward Pecoy Notch and you will pass through a heavily quarried section. There we saw some very fine Catskill furniture, including what amounted to a small village.
There are some obvious problems with Catskill furniture. None of it is very comfortable. It's hard to rearrange the furniture and impossible to order some for delivery. But so what; all of this is just for fun. It's a rough sort of folk art, but it does reflect a basic human characteristic. We all seem to like to leave monuments behind, be we ancient Druids or modern Catskill hikers. So, hail to the mountain kings, and enjoy a fine hike in the Catskills.
Contact the authors at randjitus@prodigy.net. Join their facebook page "The Catskill Geologist."