Arbor Day comes early this year
Stories in Stone
The Columbia County Independent
Robert Titus
We devoted our last column to the theory of evolution and the very old age of the Earth. The Darwin Theory has seen many successes since its publication in 1859. Recently news from our own region has given it another one. We would like to report on that today.
The story goes back almost as far as evolution. Back in the autumn of 1869 there was an awful storm which swept through the Catskills. Flooding on Schoharie Creek at the village of Gilboa, saw a lot of bank erosion and uncovered three beautiful fossil tree trunks. They were in Devonian age strata and thus were roughly 380 million years old. That was most exciting; this was the oldest fossil "forest" then known.
But this discovery left a very great mystery. Only the stumps of the trees had been found; what did the foliage look like? Nobody knew, and without foliage, nobody could tell what kind of trees they were. Geologists searched for the foliage but could not find any.
Decades passed and in the early 1920's excavations began for the Schoharie Reservoir in the village of Gilboa. The village was razed to make way for the reservoir and people still, to this day, resent the destruction of their town. But another great scientific discovery was made. About 200 more tree stumps came to light in a quarry below the new dam. These were more of the "Gilboa trees."
This time fossil foliage was found, but not attached to the tree trunks. Nobody could be sure that the foliage and the stumps belonged to the same trees. Winifred Goldring, the New York State Paleontologist, thought that they did, and she decided that the Gilboa trees were of a type called tree ferns. She was a fine artist. She drew a reconstruction of the trees as she thought they looked, and her picture became very well known.
But was she right? There were always nagging doubts. Decades passed by, and still nobody could find a specimen of the foliage attached to the rest of the tree. Such things are very rare. But everybody hoped that someday the great discovery would be made.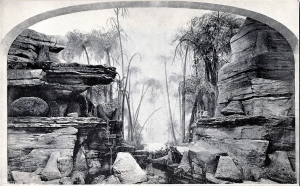 Well, we are happy, really happy, to report that the day has come. Last year, in an article published in Nature, one of the most prestigious journals of science, researchers reported the long-sought discovery. In a little quarry in the northeast Catskills and cluster of fossil tree trunks was uncovered. Two of the trunks had foliage still attached.
Take a look at the illustration. Have you ever seen a tree like this? We think not. It is a very primitive tree which is what you would expect to find in something as old as the Devonian. There is no common name for it, so we are stuck calling it by its Latin scientific name – it's a pseudosporochnalean cladoxylopsid!
This was a very primitive tree. It didn't have a lot of things you associate with modern trees. There were no fruits or nuts, they didn't even have seeds. They didn't have leaves. They had structures that would only remind you of roots; they weren't the real things. So, what did they have? They are a long slim trunk which had no branches as you would see on modern trees. They did have that foliage. Instead of leaves they had frond-like structures which must have been green and must have photosynthesized. The foliage also displayed spore producing structures. Spores, tiny black dots, were reproductive structures.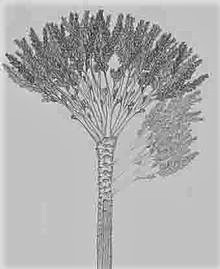 Were they ancestral to any modern trees or even related to modern plants? Maybe, or maybe not. There is some speculation that they might have been the ancestors of ferns – or gymnosperms. But it's just as likely that they were just a strange form of ancient tree.
But they certainly are interesting. And we can take pride that such an important form of fossil has been discovered in our Catskills. They are an interesting testimony to the enormously complex evolutionary history of life that the fossil record presents to us.
Contact the authors at randjtitus@prodigy.com Join their facebook page The Catskill Geologist."