The bottom of the sea?
The Catskill Geologists
Robert and Johanna Titus
The Mountain Eagle – Jun 16, 2017
We recently portrayed our Catskills as being a petrified delta. That is geologically true, but it is not the full story. Our delta is called the Catskill Delta and it was a big one. Geologists compare it with today's Ganges River Delta which makes up almost all of the nation of Bangladesh. Take a good look at a map of Asia and see how big that delta is. Then imagine a similarly sized delta right here.
Deltas grow; large amounts of sediment are always carried onto them by their rivers. As they grow they expand (or prograde) into the nearby ocean. That brings delta deposits on top of older marine sediments. That should have happened during the Devonian time period when the Catskill Delta was prograding westward. If there was a Catskill Delta then there should have been a Catskill Sea.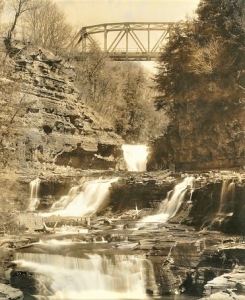 Manorkill Falls
So, where was this Catskill Sea? The answer is – right here. Whatever location where you bought your copy of the Mountain Eagle was once covered by the Catskill Sea. All of where the Catskills are today was once covered by this ocean. It was not a very deep ocean but it was big, spreading across much of North America.
You can see a fine outcropping of the Catskill Sea sedimentary rocks at Manorkill
Falls. That's right at the intersection of Rte. 990V and the Prattsville Road. A better place to go is Mine Kill falls, off of Rte. 30, within Mine Kill State Park. You can easily climb down to the bottom of the falls there and poke around, looking for fossils. Pack up the family and do just that. There is good parking and an easy trail that takes you to the falls. When you get there, we would like you to learn some basic geology.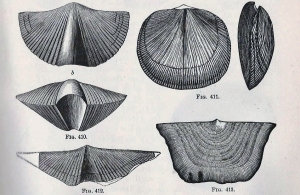 Brachiopods
There are two types of rock down there, black shales and dark sandstones. They are all stratified. That is they were deposited in flat layers on the bottom of the Catskill Sea. Eventually those strata hardened into the rocks we see at this picturesque park. Being that this was the bottom of a run-of-the-mill sea, it was populated by just the sorts of creatures we would expect to see on such a sea floor. Those were mostly shellfish invertebrates.
We will only describe the most common ones today. Those are called clams and brachiopods. Take a look at our photo and you will see some very typical examples. We expect that you already know what clams are. They are shellfish that possess two shells. But, so are brachiopods; the two groups might seem to be that same kinds of animals but they are not. Their planes of symmetry are different and that makes them totally unrelated. With brachiopods the planes of symmetry pass down the middle of each shell; with clams the symmetry passes between their two. We hope you can see this in our photo.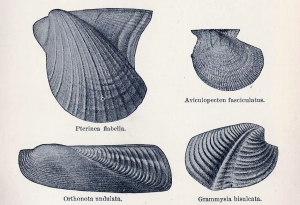 Clams
Clams are very common today; they are many of what you find when you go shell collecting at a beach. Brachiopods were equally common back in the Devonian time period when the Catskill Sea existed. That seafloor was littered with brachiopods. And, of course, that means that Devonian shales and sandstones are often littered with them as well. Please try to get familiar with brachiopods. You will find them very frequently if you go fossil hunting in our Catskills.
Contact the authors at randjtitus@prodigy.net. Join their facebook page "The Catskill Geologist.
Watch for their new book "The Catskills in the Ice Age, 3rd edition.