The Killer Trees
The Register Star
April 29, 2010
Updated by Robert and Johanna Titus
Contrary to the stereotypes, most scientists have rich imaginations and we often like to indulge in wild speculations about our fields of research. Most of the time these ideas can be quickly proven wrong, but sometimes we get an off-the-wall idea that is not so easily eliminated, in fact it may start to look pretty good.
Recently an interesting new hypothesis has been introduced that may offer us a chance to better understand the black shales and dark sandstones of the Catskill sequence. The dark appearance of these strata makes them remarkably eye-catching and they loom, dark and menacing, over the landscapes wherever they are exposed. The best local area is along Rt. 209, just south of the Saw Kill.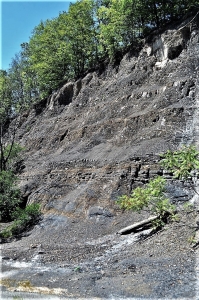 Rte. 209 outcrop
Black stratified rocks are often rich in undecayed organic matter; it's the black of the carbon gives these rocks their color. This generally suggests to the geologist that there were low-oxygen conditions in the sea waters at the time of deposition. Without oxygen, most decay bacteria cannot function, and they soon die. But why low oxygen? That's where that new hypothesis comes in.
That new idea is sometimes called the "killer tree hypothesis." Although the term may seem a little too extravagant, it probably isn't that far off the mark. The story starts during the middle Devonian when the evolution of land plants was really starting to accelerate. By then land plants had been around for quite some time, but they had only managed to evolve into small forms with thin, weak stems. Nothing that could be called a tree had yet appeared. Trees require wood as support tissue. Not surprisingly, when wood did evolve, large, tall land plants soon followed, and the world's first forests quickly appeared.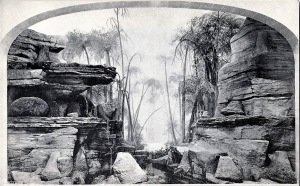 So, what do trees on land have to do with black colored shales in the ocean? Quite a bit, it turns out. Wood had much to do with our story because it allowed trees to grow so tall that they required deep root systems and that's when we return to the black shale and the poison sea. Complex root systems help to break up bedrock and they greatly accelerate the rate at which bedrock is weathered into soils. Not surprisingly, deep, well developed soils appeared in the Devonian, possibly for first time in history. This was a major transformation of the landscape. Barren landscapes with thin soils were soon replaced by lush foliage and thick soils as our world's landscapes turned green and blossomed with plants that grew in deep soils.
All of this led to far more rapid rates of deposition in nearby oceans. Thick soils were easily eroded and provided sediments that glutted nearby streams. The sediments were eventually transported into the nearest ocean which was the Catskill Sea. All of this material was rich in dissolved nutrients, materials such as nitrates and phosphates. When these nutrient rich sediments entered the Catskill Sea, they fertilized the water and that led to the next step in what was now a complex chain of events.
The newly fertilized oceans were ideal for algae; they experienced what is called "algal blooms." Great population explosions of algae occurred in the shallow, surface waters of the Catskill Sea. While all this was great for the algae it was tragic for just about every other category of marine organisms. As the algae died, they were attacked by decay bacteria. The decay process consumed so much oxygen that the seas soon became oxygen-depleted. With the loss of oxygen, bacteria had in effect poisoned their own habitat. Because they needed oxygen too, their numbers soon plummeted and very soon, all types of animals suffocated in the oxygen depleted sea as well. But the algae just kept on proliferating in the surface waters where there was plenty of oxygen, diffusing in from the air. Soon, large masses of undecayed algal material sank to the floor of the ocean. Almost none of this biological matter ever decayed, consequently the sediments that are found there are very rich in black organic carbon. These would eventually harden into thinly laminated, black shales.
When this happens today in a closed body of water, we refer to it as eutrophication. The Catskill Sea was largely isolated from other deep bodies of water. All these conditions promoted what are called thermally-stratified and stagnant waters. The surface layer was hot while, at depths, the lower strata of water remained cool. Dense mats of floating plants and animals grew upon the warm surface waters. Depth stratification and dense planktonic mats prevented agitation and mixing of the waters, causing stagnant sea floor conditions to develop.
Soon a deep basin with a black mud bottom, devoid of life, appeared. Virtually nothing could live in this sea, except at the surface where there was always plenty of oxygen.
Contact the authors at randjtitus@prodigy.net. Join their facebook page "The Catskill Geologist."