A pothole at Hildene
Windows Through Time
The Register Star
Oct. 22, 2015
Robert and Johanna Titus
It won't be long before winter sets in, but there is still time to get out and enjoy. Recently we visited "Hildene" the onetime home of Robert Todd Lincoln, oldest son of the president. That's south of Manchester, Vermont, off of Rte. 7A. Robert Lincoln had a difficult youth. His brothers died young and, of course, his father was assassinated. Later his mother, who had suffered even more, drifted in and out of madness. Still Robert, in his maturity, made a success of himself in business and as a lawyer. Hildene is the spacious home of a successful man. It overlooks the beautiful Batten Kill Valley.
Our interests were not in seeing any geology; we simply wanted to enjoy a historic site. But, geology always seems to follow us around. We are, especially, unable to escape images of the Ice Age. And that is what happened at Hildene. Someone mentioned something called "Robert's rock" and we asked about that. It turned out to be a mass of bedrock located immediately adjacent to the south side of the mansion. We looked it over and decided that there was nothing much worth writing about.
We are always on the lookout for good topics so this was disappointing. But, just beyond Robert's rock, was a fine view of the Batten Kill Valley below. We stepped forward a few steps and saw one of those ice age features. It was partially buried and had been partially eroded away, but there it was. It was a pothole. Our picture can't do it justice to it, but there it is.
Potholes are deep, very circular holes in the bedrock. They are the product of swirling currents of water. The currents flow into an eddy. They carry sand and that acts as an agent of erosion. The water and the sand spin and swirl, and the sand bounces against the wall of rock and abrades it. Over the course of time, if the flow is steady enough, potholes will grow deeper and wider. Each one will, however, always maintain the same shape, a circular hole with a rounded bottom. They can be of any size, large or small. It's not unusual that, when you find one, you find a lot of them.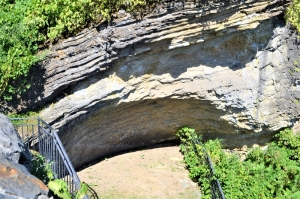 Pot hole has scooped out appearance at back of cliff.
We have written about potholes a few times. There is a fine one in the creek in Canajoharie, NY. Then there is a mysterious one at Olana, the home of famed Hudson River artist, Frederic Church. That last one has been reported in the scientific literature and we have searched for it, but without success. Most potholes are found on the bedrock floors of river channels and most of them date back to the Ice Age. Most all of them formed at the end of the Ice Age when massive amounts of meltwater were pouring down river channels. Those powerful currents cut into the earth and exposed the bedrock. Those eddies of water then eroded the potholes into the newly exposed bedrock. Over the millennia that followed, those potholes are likely to have slowly gotten larger.
Do you see a problem here? We did. The pothole at Hildene certainly does not lie at the bottom of a river channel. It is high up on the top of a steep hill overlooking the Batten Kill. That looked to be perhaps 500 feet below. So, what is a pothole doing way up there? We pondered this and debated it, and we soon came up with a solution to the problem; that's what scientists are supposed to do.
We began to see the Batten Kill Valley as is must have been during the final stages of the Ice Age. We saw the valley filled with ice. We imagine that this must be called the Batten Kill glacier. It had advanced down the valley and perhaps reached quite some distance farther south. But, the climate began warming up and that glacier began melting back. All the time massive amounts of meltwater were pouring off of it.
What an image this generated. We stood there, just south of the mansion upon Robert's rock. It was about 14,500 years ago and we looked up at a large glacier rising above us. It had been very warm recently and that glacier was melting about as quickly as is possible. An enormous flow of dirty water cascaded down in front of us; it was almost a waterfall. It pounded loudly into Robert's pothole and swirled into a sizable eddy. We looked down and saw the power of that flow. The walls of the pothole were smooth and shiny from its efforts. Then we went and toured the mansion.
====================================================================================
Contact the authors at randjtitus@prodigy.net. Join their facebook page, "The Catskill Geologist."