The Schenectady landslide.
The Catskill Geologists
The Mountain Eagle
Feb. 2, 2018
Robert and Johanna Titus
Have you heard about the recent landslide in Schenectady? A mass of mud slid down a steep hill along Nott Terrace road and did major damage to two houses. It injured at least one person and left perhaps two dozen others looking for a home. This is the type of story that we have been covering for more than ten years now. Landslides are frequent geological hazards up and down the Hudson Valley and throughout parts of the Catskills. We think that this threat should be better known by you, the public.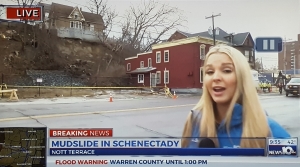 Albany, Channel ten covers the story. Landslide behind red house
We need to give you a little background first. Back in the later stages of the Ice Age, much of the Hudson Valley was submerged in a body of water called Glacial Lake Albany. That included all of the land that is now Schenectady and Rotterdam. The Mohawk River was a powerful flow back then, carrying large amounts of water from melting glaciers. It flowed into Lake Albany and carried huge amounts of sediment, which were deposited into what became a very sizable delta. Those deposits were mostly sand, silt and clay; when wet enough they become mud.
The lake eventually drained and the delta was left behind, literally high and dry. It provided ideal conditions for people to settle. Delta tops are flat and easy to develop. It was simple to lay out roads. Settlers could build homes with deep, well-drained basements. Those homes were high enough above the Mohawk River so they did not have to fear flooding. It's a remarkable thing to realize that both Schenectady and Rotterdam are where they are because of the Ice Age.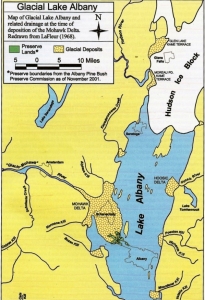 Schenectady lies on the delta.
Over the millennia, rivers cut canyons into the delta and there lies the problem. Those canyons often have steep slopes and, when the delta deposits become wet from rainfall, they turn into mud and that mud can let go and slide downhill as mudslides. That happens from time to time. One of the most recent such events occurred in the spring of 2004. Heavy rain, the previous autumn, had soaked the ground at 1st Avenue in Western Schenectady. The Mohawk River and an unnamed creek had eroded into the delta deposits there and created a steep slope, 80 or 90 ft. tall. When the slide began, it caused six houses to slowly subside. It is our recollection that they were all condemned. In January of 1996 a similar event occurred on Broadway, near Rte. 890 where Pleasant Valley Creek created a similar steep slope. That landslide, occurring after heavy rains, killed one man. The Nott Terrace slide is an event very similar to these.
As geo-journalists, we have been following this story for years. We have seen similar events in Delmar, Greenport, Rennselaer, Germantown and just a few years ago in New Baltimore. We fear that many more such slides will occur throughout the Hudson Valley, including at historic sites in Hyde Park. All of these slides involved the sediments of Lake Albany. These silty lake sediments soak up a lot of rainwater. When they reach a certain point, they become unstable. Great curved fractures open up and masses of earth slide along the curves of what are called rotational slumps.
All this is important; it is our region's greatest geo-hazard. This will happen again.
Reach the authors at randjtitus@prodigy.net. Join their facebook page "The Catskill Geologist." Read their blogs at "thecatskillgeologist.com." Watch for their columns in Kaatskill Life and Upstate Life magazines. They are frequently in the Woodstock times.