Bard Rock – 450 million years ago
Windows Through Time
Columbia Greene Media
June 27, 2013
Updated by Robert AND Johanna Titus
The two of us have been doing some work for the National Park Service down at Hyde Park. We have shot several videos in which we describe the geology of park lands down there. They have posted this on their website. All this included a visit to Bard Rock and we found an interesting story there, actually two interesting stories. Let's do one this week and save the other for next week.
Bard Rock is just what it sounds like; it is a sizable outcropping of bedrock. It's located at the northern end of the Vanderbilt Mansion National Historic Site. That's the old Vanderbilt estate. It is positioned right on the shores of the Hudson River and that helps make it a very scenic location. You will have to do some walking to visit it; it is on the Bard Rock Hiking trail, part of the park's system of trails. It's worth the effort as it really is a pretty location.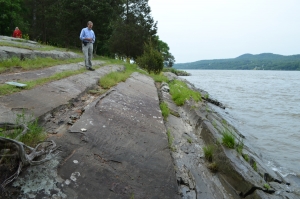 But it has a lot of good geology too and that's why we filmed there. We did a little research before going down and that included looking at the local geological maps. We found, as we expected, that the local bedrock belonged to something called the Normanskill Formation. If you want to be technical, the local rocks belong to the Austin Glen Member of the Normanskill Formation. The two of us are quite familiar with the Normanskill, as we have frequently visited outcrops of this unit. It is one of the most widespread rock units in the Hudson Valley.
The Normanskill is a mix of alternating horizons of dark gray sandstone and black shale. When we got to this outcrop we found it to be a very typical one. There were many nice thick sandstones and an equal number of thinner horizons of black shale. The shales are the indents on our photo. They set up the video camera and we went to work hamming it up, Robert clambered up the outcrop's slope and with each step said things about "sandstone – shale – sandstone." Then he got serious and started an explanation of what he was seeing and experiencing here.
The Normanskill Formation is Late Ordovician in age. It takes us back a full 450 million years. That's a long time ago, and you can understand how we geologists expect that things were different back then. Today these rocks lie on the edge of the Hudson River; back then it was very different. There was no Hudson River during the Ordovician and there were no hills such as we see hereabouts today. The sandstones and shales were here but not as hardened rocks. They were soft sands and very soft muds.
It all gets even more unfamiliar, the more you think about it. We were at the bottom of a very deep ocean. This might be called the Normanskill Basin, but we think it would be better to call it the Normanskill Trench. If you know your way around the Pacific's geography you will know that there are a number of extremely deep places. Long linear trenches exist and they can be 20 to more than 30 thousand feet deep. The best known, and deepest, is the Marianas Trench, located in the western Pacific adjacent to the Marianas Islands. Trenches form when two great crustal plates collide with each other. They are "creases" between the two plates.
But if you are not familiar with plate tectonics then let's keep it simple and just say that it was a very deep ocean that accumulated the sediments and sedimentary rocks of Bard Rock. Robert stood up and looked at the camera and then turned a full 360 degrees. He described being on the bottom of this Normanskill Trench. All around him the water was totally black, completely still, silent and very cold. This seemed a lifeless seafloor; almost nothing lived here. Beneath were sticky soft muds. Both of us were "experiencing" the origins of those black shales.
But now he had to explain the thick gray sandstones. He described the striking of an earthquake in some nearby region. The seafloor shook violently all around. Soon masses of sediment, high above in shallower waters, rose up as clouds of sediment. They were, slowly, pulled downslope. Then they picked up speed and became a massive submarine avalanche. For a very unhappy period of time, masses of dirty water passed by. Then things slowed down and settled to a halt. Robert looked around and saw several feet of sand, all deposited by that terrible event.
And then, in a flash, he was back at the edge of the Hudson River on a beautiful late spring day. Geologists live such interesting lives.
Contact the authors at randjtitus@prodigy.net. Join their facebook page "The Catskill Geologist." The Vanderbilt videos are currently posted there.