Driving Around a Lake
On the Rocks; The Woodstock Times; June 16, 2016
Robert and Johanna Titus
We frequently meet people who read our columns and then go out and see for themselves what we have been writing about. One couple told us that they keep some of our books in the glove compartment of their car. They like to go exploring for what we have written. We are always glad to get that sort of feedback. So – let's take you out, this week, and go see some fine geology. It will be a visit to a glacial lake. Don't worry; you won't get wet; the lake emptied many thousands of years ago.
We started our journey when we pulled off the road at the intersection of Routes 23A and 32 near Palenville. We gazed westward and spent a little time looking at the lower reaches of Kaaterskill Clove. We imagined the clove at various times during and at the end of the Ice Age. Today's scenery can generate some vivid images of the past. First, we looked north and watched as the Hudson Valley glacier as it advanced down the valley, closing in on us. Then a branch of that glacier peeled off to the west and rose up the clove. As geologists we are patient folk; we watched as the same ice melted away and enormous amounts of meltwater cascaded down the canyon.  We had seen nothing less than the origins of Kaaterskill Clove. How fortunate we are. But there was more.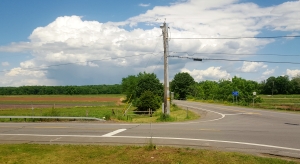 Then we turned around and saw some more images from the ice age past. Let's go exploring that past. At first, it didn't seem like there was much to see, just a dull, broad, flat field. But that flat field before us was an old lake bottom, called Glacial Lake Kiskatom. If you care to, you can take a shovel, walk into that field and drive the shovel blade into the ground. You will easily turn over a shovel full of sandy silt. There are very few cobbles in it, not many pebbles either. This is the mud of an old lake bottom and lakes do not accumulate cobbles or pebbles, just silt and clay.
We got our map out and looked at it carefully. To the south, the flat lands of the lake bottom extended about a quarter of a mile; they reached more than two miles to the north. As far as we could see all was flat. We drove east and turned left on Ramsey School Road, named for the old one room schoolhouse that used to operate there. Now we were driving north along the east shores of the old lake. We looked to the west and, again, saw its waters spread out before us. We continued north and the road became Paul Saxe Road. Soon, to our right, there was an old embayment of Lake Kiskatom, but then the road climbed back up onto the eastern shore of the lake.
Before long, we turned left onto Cauterskill Road and that took us across the lake bottom toward its western shore. There is something exhilarating about being on the bottom of an ancient lake. We stopped and got out. We looked up and "saw" the waves passing above. They glistened, gleamed and sparkled as they caught the sunlight. To the north the lake bottom was very wet. This was still wetland; it just had never properly drained. The maps call this part of the lake bottom "Kiskatom Flats."
We rejoined Rte. 32 at Hearts Content Road. We looked up that road and saw that it followed the north shore of another embayment of the lake. We pulled over and looked at the embayment and saw it filled with water. What a wonder it is for geologists to look at a landscape and see its geological heritage. Privilege might be an even better word.
Next, we were heading south on Rte. 32 with the waters of the lake to our left. We passed Rte. 23A and went another quarter mile. We turned left onto High Falls Road. We traveled about three miles through a very picturesque neighborhood with many fine old homes. Kaaterskill Creek was always just a short distance to our left. It had carved something that could not be called a canyon but was an awfully narrow valley.
Our goal was High Falls itself. The property here is all sorts of "no trespassing" but the road does take you, legally, across the top of the falls. Kaaterskill Creek, during millennia of erosion has cut a canyon into the bedrock here. You can stop and walk out onto the bridge and see the top of the falls. An enormous flow of meltwater once passed this way. Notice the abundant straight fractures in the rock; these are called joints.
What we were looking at, and what we had been driving past, was the ancient outlet of Lake Kiskatom. All lakes have to have some sort of an exit, a stream that drains their waters. Kaaterskill Creek had served that purpose long ago. During the great melt that accompanied the end of the Ice Age, Kaaterskill Creek must have been a torrential and erosive flow of water. The narrow valley we see here, reflects that heritage. Kaaterskill Creek, eventually, leads its waters toward the Hudson.
We had now finished our exploring. We had recognized an ice age lake and driven around it. We hope that you get a chance to do this drive too.  See if it does not give you a whole new perspective on what a person can perceive when they know how to look not just at, but also into a landscape. We do it all the time; you can join us.
Contact the authors at randjtitus@prodigy.net. Join their facebook page "The Catskill Geologist. Everybody else has!