The New Kaaterskill Falls Overlook
On the Rocks; Th e Woodstock Times
Robert and Johanna Titus
It was nearly 20 years ago that On the Rocks first editorialized for extensive trail renovations at Kaaterskill Falls. Now, at last, something concrete has been done and we are so pleased to see the first results. You absolutely have to go and see the new overlook at Kaaterskill Falls. It's something we have, indeed, been looking forward to for such a long time, and now it is here–and now it is open to the public.
We have written about Kaaterskill Falls any number of times; it is one of the most picturesque landscape features of our region–and certainly one of the best known as well. People have been visiting the falls for two centuries. We have seen initials carved into the rock there dating back to 1810. It was probably landscape artist Thomas Cole who first made it famous with his paintings, done in the 1820's. Alexis de Tocqueville wrote about it too.
But there have been problems. First, there has always been too much foot traffic, especially on the slopes leading upwards from the bottom of the falls. People are real erosion hazards on slopes of this sort, and the one at Kaaterskill Falls had, even decades ago, become seriously damaged. But there has always been another problem– it is a dangerous place. People walk out onto the lip of the falls and, if they are not very careful, they slip and fall to their deaths. Over the course of the last few summers, it has only gotten worse. Several people died there during each of the last few summers. That endangered the lives of first responders too. It is perhaps more dangerous to attempt rescues there than to just visit the falls. Something had to be done.
Work began in earnest last summer. The whole canyon, approaching the falls from downstream, is being refitted but that project is not complete yet. Trails leading up from the falls and connecting to other trails are still coming along. But the new trail to the upper falls is, indeed, now complete. You get there by taking Rte. 23A up the clove and into Haines Falls. Then you turn right onto County Route 18 and head east. Turn right again onto Laurel House Road and drive to the end. If you have been there in the past, you will be pleasantly surprised by the new parking lot. You will have no trouble finding the new trail. It's right there. It is paved by some sort of black stuff that we could not identify. It winds back and forth through the woods in a fashion that allows it to have nothing more than a gentle slope, making it all the more accessible for the elderly and, we are guessing here, probably even for those on modern powered wheelchairs.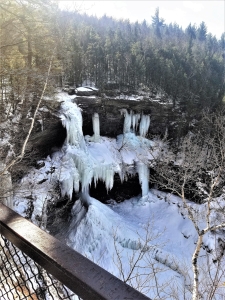 When you get to the end of the trail you will find a fine viewing platform with sturdy guard rails. The bars are high enough to provide safety and thin enough so that they do not block the view. And what a view it is. This was all very well planned. They were careful to select just the right spot for this platform.  You look down and see all of the upper falls. Our photo could not do justice to this view; you will just have to go there yourself. When we were there, we saw what was left of the mass of ice that forms every winter. You can scan sideways and see, off in the distance, High Peak and Roundtop Mountains. It is a much better view than could ever have been seen in the past.
And we are sure that it will be a lot safer than the old trail, the one that went to the top of the falls. Nobody is likely to want to climb over the bars here, so it is far less probable that there will be so many accidental deaths. If you insist, you can find the old trail and you can go and visit the top of the falls, as in the past. But they have made that trail unobtrusive and we are guessing that there will be much less traffic in that direction. That will only allow limited numbers of people going where the dangers are greatest.
   There must be some good geology here or we would never have paid much attention to the place. There is. Take a good look at our photo. There are three massive ledges of Catskill sandstone, commonly called bluestone. One is at the top, or the lip of the falls, and the second is halfway down and hard to see. The third makes up the platform at the bottom of this, the upper falls. All this belongs to a unit of rock called the Oneonta Formation, a late Devonian aged rock formation that can be traced all across the upper Catskills. It is part of the fabled Catskill Delta. Those sandstones are ancient river deposits. Those ledges were once sands, and that sand filled the channels of rivers that crossed the Catskill Delta.
In between those sandstones are thicknesses of brick red shales. These comprise more of the Catskill Delta. They formed, originally as overbank deposits. That is, they formed as floodplain deposits in between the old river channels. So, altogether, the strata of Kaaterskill Falls constitute a very representative cross section of the old Catskill Delta. We rather guess that many classes of young geologists will be coming this way.
Make sure you go there soon. After all, it is spring. See the scenery and examine the geology. There is more to come, much more. Old trails will be refitted and new ones will be cut. This site is going to be turned into a much better location, a well-integrated system of trails for hiking and for looking at the geology. We will write about that later, when it is all done. But, for now, we applaud what has been done at Kaaterskill Falls. Two thumbs up!
Contact the authors at randjtitus@prodigy.net. Join their facebook page "The Catskill Geologist."