Piracy in the Catskills
On the Rocks – The Woodstock Times
Updated by Robert and Johanna Titus
Kaaterskill Clove attracts thousands of people every year just to enjoy the scenery. They hike and climb along the clove trails. They visit the waterfalls. They walk up the canyon. On it goes, there are so many recreational things to do here. The clove is well known regionally, and you might not expect this location to be known internationally, but it is. But when we say internationally, we should be a little bit careful about what we imply. You see, the clove's international fame is within the world's geological community. Kaaterskill Clove became geologically famous about a century ago when something special was discovered about its landscape. This, it turns out, is just about the best place anywhere to go and see something called stream piracy.
Stream piracy must sound like a most unlikely term. Try to imagine a river with an eye patch, a sword, a parrot on its shoulder and a Jolly Roger flag; it doesn't work. If you prefer, we can mention other terms we use, like beheaded stream or barbed drainage, but neither of them does much good in explaining itself. Clearly, we need some definition here. Take a good look at a map of the drainage in the Kaaterskill Clove vicinity. There is something most peculiar. Gooseberry Creek, which flows west from the clove area, is not part of the clove. Instead, it begins in Haines Falls and flows into Schoharie Creek. Lake Creek, which does form the head of Kaaterskill Creek has a peculiar pattern. It begins at South Lake and flows westward, as if to join the Schoharie Creek system. But instead, it makes a very sharp turn, tumbles off of Kaaterskill Falls and then enters the clove drainage.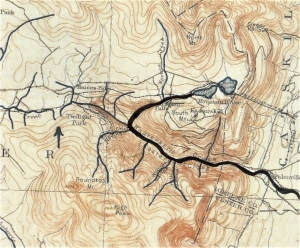 All this is very strange looking on a map. Lake Creek and its tributary, Spruce Creek look like they should be part of the Schoharie drainage, indeed they should be the head of that river system, but they are not. They have been diverted eastward and flow into Kaaterskill Creek. (see heavy black line) Thus, it makes sense to say that the Schoharie system has been "beheaded." The confluence of Lake and Kaaterskill Creeks is at a very sharp angle: That is called "barbed drainage" and that term does make sense. But why and how did all this happen? That's where the term stream piracy is needed.
Stream piracy was described here about a century ago by N.H. Darton. He noticed that Kaaterskill Creek flowed down a very steep slope. With all of the momentum that the water developed, it was no surprise that the creek was highly erosive. Its erosion has created the rugged and picturesque landscape that we see here and enjoy so much. That's a beauty that the members of the old Hudson Valley school of art referred to as "sublime." But the Schoharie Creek system, including Gooseberry Creek, is not on a steep slope, and it is not very rapid or erosive. Its valley is nice to look at, but it isn't very rugged, and it is not "sublime."
The stream piracy, we see here, began at the end of the ice age. Kaaterskill Creek began attacking the steep slopes of the eastern Catskills that had been left by the erosion of the Hudson Valley glacier. As it gouged its canyon into the Catskills, it encountered the upper reaches of the Schoharie Creek drainage. Kaaterskill Creek cut right into that system and has diverted some of the drainage and turned old Schoharie tributaries eastward into its own canyon. The diversions are seen at the sharp turns in the streams, the barbs in the drainage. This is stream piracy, and it will continue. In the future more of the upper Schoharie will be lost to a greedy and expanding Kaaterskill Creek.
The process will continue on into the future until our steep Catskill Front is eroded back into a gentle slope. It will lose most of its majesty in the process but there is little cause for alarm. This will not happen for many millions of years.
   Contact the authors at randjtitus@prodigy.net/ Join their facebook page "The Catskill Geologist."