Tub thumping at Kaaterskill Falls
On the Rocks
The Woodstock Times
April 14, 2015
Robert and Johanna Titus
Have you been to the new trails at Kaaterskill Falls? We lobbied for this sort of thing for many years. The DEC seems to have been influenced, in part, by this column in the Woodstock Times.
The year 2014 was a difficult one at Kaaterskill Falls. That summer two people fell to their deaths. It's a dangerous place; you only have to be careless for a second or two and then the worst can happen. Naturally, everyone involved is quite concerned about the upcoming summer season. We wish these things did not happen, but they do. And there is so little that you can do to mitigate this sort of thing. They have put some new fences up, but they are unlikely to deter people from going into dangerous areas. Some better communications are now available for first responders, and we understand that the site is better prepared to get helicopters in and out of it.
Still, it just takes a second or two for the worst to happen,
But we are concerned about other problems at Kaaterskill Falls, and those are problems that may actually have solutions. Our first concern is the ongoing erosion of the slopes just to the right (east) of the falls. It has been about two centuries now, that people have been coming here in ever increasing numbers. It used to be that the marked Yellow Trail ascended the slope to the right of the falls and people climbed up to the top of the falls that way.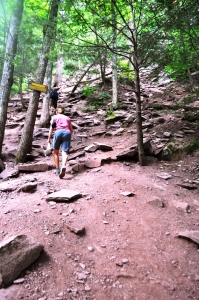 But the ground is soft there and, especially when it is wet, the results of climbing are to mobilize the earth. There is no hope for vegetation to take hold here; plants are quickly trodden into the ground. When it rains, the bare earth is likely to slide downhill, just a bit: just a bit today, and just a bit tomorrow, and just a bit next week. You get the picture. The slopes have been eroding for all those two centuries.
Years ago, the Yellow Trail, above the base of the falls, came to be closed. That probably has helped a little bit, but just a little bit. People still climb up those slopes: we confess; we are among them. It's not likely that this will stop. Late, last summer, those new fences were put in, but it is hardly likely that these will even slow people down. We posted a photo of one new fence on our Facebook page and the responses were uniformly sarcastic.
So, if this is not working, then what should be done? Our solution, and we have been arguing this for 20 years, is that a staircase should be built. That's certainly not an unprecedented idea. When William Henry Bartlett sketched at Kaaterskill Falls during the 1830's, his picture showed a staircase from the bottom to the top of the falls.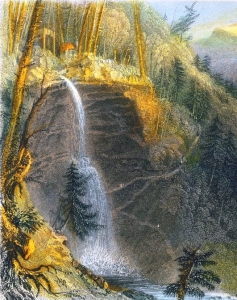 Detail from Bartlett print of Kaaterskill Falls. See staircase to right.
But during the last century, this property came to be owned by New York State, and thus part of the Catskill Park. If we understand it properly, park land should not have artificial constructions on it. This land is supposed to be pristine and natural. A staircase would be unnatural, a violation of what is intended. The irony is, of course, that, without a staircase, people do far more harm.
So those "pristine" slopes have been slowly and steadily deteriorating for centuries now: with more centuries to come? We hope not. If we are looking for precedents, we do not just have to visit the 1830's; we can look at a good example today. Have you ever been to Mine Kill Falls? Take Rte. 30 north from Grand Gorge and watch for signs that announce the presence of the falls. There is an ample parking lot and, just below that, you can begin descending a nice dirt trail into the Mine Kill Gorge. The trail will take you all the way to the bottom of the falls. Your boots will do little damage here; the slope is so gentle that you will not trigger any significant erosion.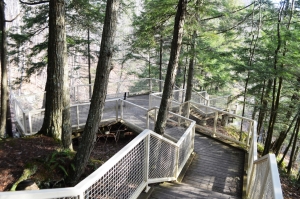 But, there is another trail. Its left fork takes you to a staircase and that staircase takes you to a fine view of the upper Mine Kill Falls. Then there is a right branch; its staircase takes you to a view of the lower falls and the canyon below it. It is a most remarkably picturesque location. And we don't think you will find that the scenery is harmed in any way by the staircases. You will not likely find this to be some sort of environmental abomination.
The steps get people to the upper falls safely and easily. And there is absolutely no erosion going on below the stairs, nor will there ever be any. It is a nice, environmentally sound, solution to a serious problem. Visit Mine Kill and see for yourself. Then imagine some equivalent installations at Kaaterskill Falls.
But there is more, there is another problem that we wish to help solve. The two of us belong to the Mountain Cloves Scenic Byways Committee. We are hoping to promote greater eco-tourism in our picturesque eastern Catskills. We need a trail system that smoothly transports hikers from below Kaaterskill Falls, past the falls, and on to the Blue Trail that leads to the north rim of Kaaterskill Clove. In short, we want a well-planned trail system that promotes green tourism.
We don't have that now. Today, you can take the Yellow Trail to the base of Kaaterskill Falls and then you are supposed to turn around and go back. Who on earth would want to do that? Our proposed staircase, we hope, would lead on, above the falls, to join the greater trail system. It would be a great lure for tourism in our area. We need it.
This is Greene County; our tourist industry has long been deeply depressed. Greene County is a landscape of lost hotels, empty motels, and long forgotten boarding houses. This, the onetime home of the Catskill Mountain House Hotel, now has very few overnight rooms and still fewer people looking for them. We need help and, just maybe, a more thoughtful trail system would be a step in the right direction. That all hinges on a staircase being installed at Kaaterskill Falls.
We don't do a lot of tub thumping at On the Rocks, but we think this is worth the effort.
==================================================================
Contact the authors at randjtitus@prodigy.net. Join their Facebook page "The Catskill Geologist"